5 Shows & Their Sisters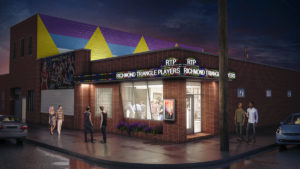 Richmond Triangle Players' has announced its 24th season and launched a new series of staged or concert readings. The new "Sister Series" will complement or illuminate the Mainstage works. In addition, RTP will also continue its cabaret series, as well as hosting some of RVA's other acclaimed companies.
As for that thumbnail rendering, Managing Director Phil Crosby says, "We never got a chance to complete our exterior renovations back in 2009, as we were still reeling from the recession. Last fall, we received a challenge grant from The Mary Morton Parsons Foundation, which we matched, and we are now constructing the marquee we always wanted!" (See it full size at the bottom of this page)
The Main Subscription Series
Perfect Arrangement (9/28-10/22 Directed by Amy Berlin)
Two gay State Department employees have been tasked with identifying sexual deviants within their ranks. Described as an "I Love Lucy" style sitcom.
Scrooge in Rouge (11/15-12/17 Directed by Shon M. Stacy)
RTP had a hit with this show 2009 and the entire original cast is returning! This Victorian-era music hall version of "A Christmas Carol" will feature Kirk Morton, Steven Boschen, and Lauren Leinhaas-Cook to perform all of the parts.
Choir Boy (2/22-3/13/17 Directed by Margarette Joyner in collaboration with The Heritage Ensemble Theatre)
A young man at a prep school for black students wants to lead their gospel choir, but his sexuality presents challenges.
A Kid Like Jake (4/19-5/13 Directed by Keith Fitzgerald)
A couple is trying to get their precocious 4-year-old into an exclusive school, but his preference for Cinderella over G.I. Joe presents issues.
It Shoulda Been You (5/31-7/1 Directed by Jon Kretzu)
The bride is Jewish. The groom is Catholic. Anything that can go wrong does on their wedding day.
The Sister Series
Glory Days (8/29 & 30, 16 Directed by Lucian Restivo)
A pop rock musical about 4 high school friends who reunite for a special night.
Hand Grenades (10/17 & 18 Directed by Chelsea Burke)
When a woman gets attacked, she and her partner cope with the aftermath.
Float (12/5 & 6 Directed by Mess Rayford)
Members of a Women's Club come together to create their holiday float, but discuss much more.
Marcus, or the Secret of Sweet (3/13 & 14, 17 Directed by Brandon Butts)
Days before Hurricane Katrina, a man embarks on a journey to find himself by unraveling the secrets of his father.
Slipping (5/1 & 2 Directed by Dexter Ramey)
Eli moves from San Francisco to Iowa after his father's death and struggles to make friends in his senior year.
The Cabaret Series

Georgia Roger Farmer: A Brand New Show! (9/9 & 10)
To Be Announced (10/28 & 29)
A Special New Year's Eve Event (12/31 at 8 & 10:30 pm)
To Be Announced (3/31 & 4/1/17)
Genderfluid: A Queer Cabaret  (6/19 & 20 Directed by Lucian Restivo)
Hear show tunes and pop hits sung by the opposite gender.
Hosted Events

The Mighty Pen Project presents
Readings from M*A*S*H (8/4-13 Directed by Carol Piersol)
Virginia Anti-Violence Project presents
NERVE: Stories of Queer Resilience (10/2)
In collaboration with Richmond Triangle Players and TheatreLAB
Puppets Off Broad Street presents
Winter PuppetFest (12/26-30)
Quill Theatre presents
The Top of Bravery – An Evening with Bert Williams (1/12 – 2/4/17)
In collaboration with African-American Repertory Theatre
See Quill's season for details.
Monument City Music presents
Valentines Cabaret (2/11-12/17)
Featuring members of the Richmond Men's Chorus and Richmond Women's Chorus
K Dance: SHORTS (3/23-25)
Directed by Kaye Weinstein Gary
Subscriptions will go on sale to renewing subscribers later this week, and will be available to the general public on 6/15.