Alice: a new musical (review)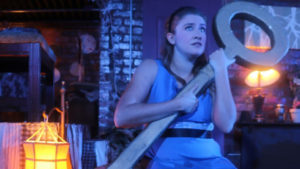 Alice: a new musical (review)
THE PLAY: Ten women play all the roles in this musical mashup of "Alice in Wonderland" and "Through the Looking Glass.
THE PRODUCTION: This richly-talented ensemble features 10 wondrously beautiful voices and a parade of delightfully wacky characters. Rachel Marrs firmly grounds the show in the title role with standout comic moments from Rachel Hindman's sarcastic mouse, her madcap twin with equally zany Maggie Bavolack and Bavolack's riotously hilarious baby. Adam Ferguson's direction is richly imaginative with a wealth of inventive staging and clever workarounds for the magic and effects. He's also created an eclectic patchwork setting that looks like it came from a thematically-scenic scavenger hunt. Musical Director Starlet Knight ably accompanies the show on piano, while skillfully guiding the cast's immense vocal talents. Maggie McGrann has designed costumes that range from funky fun to beautiful (although a few didn't fit well). Whereas the lighting in this space is often flat, Skyler Broughman has managed to add dimension and emotion to his design. Even though it's promoted as appropriate for ages 5+, both acts (especially the second) seem to run a bit long, which may be a challenge for young theatregoers.  Running time: 1:56
THE POINT: Bravo creativity and talent! Adam Ferguson's inventive staging and this wonderful cast is full of bright charm and abundant ability.
(4.5 / 5)
A co-production of Firehouse Theatre & TheatreLAB at The Basement thru 8/26
LISTEN TO MY REVIEW (as aired on WRIR)