Appropriate (review)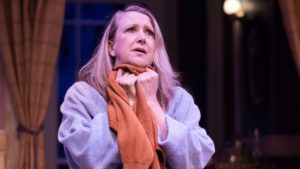 THE PLAY: A family gathers at their father's Arkansas plantation to sell it. When they discover a secret from his past, it changes everything.
THE PRODUCTION: When I review a show, I usually take notes. But I was so thoroughly caught up in this production, that I didn't write one word. There's not a weak link in this outstanding cast. They brilliantly create an ensemble that brings personality and energy to every individual. In the unlikeable lead, Susan Sanford makes her character enjoyable and eventually touching, while Happy Mahaney provides plenty of charming quirk as the family's black sheep. Director Anna Senechal Johnson has beautifully guided the show with wit and grace. Even so, the early encounters in Act Two slow the pace and challenge our patience before the smashing final scenes (kudos to Josh Chenard for his rollicking fight). As is always the case with the rooms that Rich Mason creates for Cadence, this classic Southern home is impressive and richly appointed (even in its clutter). The other tech elements are all appropriately supportive. Running time: 2:45
THE POINT: A richly acted and immensely entertaining production of a wickedly funny and wryly controversial play.
(4.5 / 5)
At Virginia Rep/Cadence Theatre co-production at the Theatre Gym thru 5/20.
LISTEN TO MY REVIEW (as aired on WRIR)