Artsies 2019 recap (5 videos)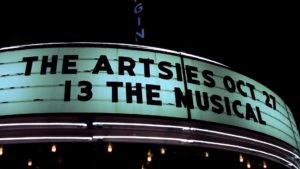 Artsies 2019 recap (5 videos)
The Richmond Theatre Critics Circle presented the 12th annual Artsies last nite at Virginia Rep's November Theatre (click here for a list of the awards).
This year's theme was "All the World's a Stage," which focused on the concept of artists coming and going into our theatre community. Some have started in Central Virginia and moved away to larger cities. Others, like the show's hosts Bianca Bryan and Jerold Solomon, had success in New York before moving to Richmond to continue their careers. Speaking of hosts, Bianca and Jerold sang beautifully and had a great time with the comic bits. (Click here to read the lyrics to both songs)
Highlights of the evening:
– The opportunity for us to hear Virginia Rep's Artistic Director Nathaniel Shaw sing (quite beautifully in a duet from "Once" with Katrina Carol Lewis)
– The RVA Theatre Alliance revealed their new brand and Facebook page (click here to visit)
– TWO plays were awarded Best Play & TWO designers were awarded Best Costume Design (Musical).
– Senator Tim Kaine and his wife Ann Holton were in attendance  to support their daughter, Annella, who was in the Artsie-winning ensemble for "The Laramie Project"
– After receiving his Best Director award for "The Laramie Project," Lucian Restivo proposed to his longtime boyfriend (Luke Newsome) right on stage
Here's my recap video (5:02)
Four videos were shown during the event (all produced by TVJerry). Click on the + to enjoy them without the noisy audience.
All the World's a Stage (Part 1)
All the World's a Stage (Part 2)
Richmond Theatre LEGACY Awards

In Memoriam