Artsies got Roots the year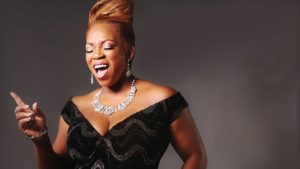 Artsies got Roots the year
Last year, she won the Artsie for Best Actress in a Musical (Caroline, or Change). She'll be back on stage this year, as host for the Richmond Theatre Critics Circle (RTCC) Awards. The 9th annual celebration of excellence in local theater will be held October 17, 7:30 pm at the historic November theater. (Yes, it's on a Monday).
"We're thrilled to have Desiree on board; she will continue our tradition of extremely talented, engaging, and entertaining hosts," says Amy Wight, producer of the event. "Theater fans love her, and she has an army of loyal followers who flock to her concerts and club appearances."
In addition to last year's win, Roots was previously been nominated for Firehouse Theatre's "Dessa Rose" and Virginia Rep's "The Color Purple." She's be playing Effie in Virginia Rep's summer musical, "Dreamgirls." She's also an acclaimed jazz singer, who appears as part of a trio of powerhouse vocalists known as the "Richmond Divas."
This year, the RTCC event will highlight the ways local stage professionals give back to the community. "Many audience members don't realize how much theater companies do to support the local community," says Jerry Williams, RTCC president. "They offer outreach programs for underprivileged students, organize cooperate efforts with other non-profits, or fundraise on behalf of the Theatre Artists Fund of Greater Richmond, which supports members of our community facing financial and medical challenges. We look forward to showcasing some of those activities this year." All proceeds from "Artsies" ticket sales will go to the Theatre Artists Fund.
Formal attire is encouraged for the awards ceremony, which is open to the public. Tickets are $20 and go on sale in August through Virginia Rep website or (804) 282-2620.
This will be the first time that nominations will be selected jointly by the RTCC (whose members are local theater critics) and the Theatre Alliance Panel (a select group of theater professionals and patrons). Members of the RTCC include:
– Tony Farrell (Richmond Times-Dispatch)
– Rich Griset (Style Weekly)
– Fred Kaufman (GayRVA.com)
– Julinda Lewis (Richmond Times-Dispatch)
– John Porter (WCVE-FM)
– David Timberline (Style Weekly)
– Jerry Williams SIFTER (TVJerry.com) & WRIR radio
RTCC and TAP members must have seen at least two-thirds of the locally-produced shows during the 2015-16 theater season in order to vote in the award nomination process.