Artsies Recap (5 videos)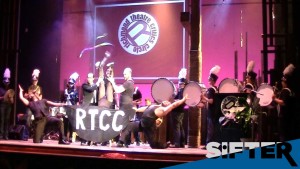 The Richmond Theatre Critics Circle presented the Artsies on 10/25 at Virginia Rep's November Theatre (click here for a list of the awards). The theme focused on Origin8tors, local people who write plays combined with the 8th anniversary of the awards.
The show was high-spirited and fun with the typically over-enthusiastic audience. There was one "whoops" moment, when the wrong envelope was opened and read (but isn't that why we love live theatre?). When the recipient finally made it to the stage, she commented that it gave her time to write an acceptance speech. One cool encounter: the Liz Ernests! (Former RVA actor meets the her current namesake.)
George Rogers Farmer hosted the evening, singing 2 songs she penned with lots of snappy humor (click here for the lyrics). For the first time, there was an after-party at Graffiato (where the pre-reception was also held).
Here's my video recap.
---
Four videos were also shown during the event (all produced by TVJerry). Click below to watch them without a noisy audience.
Origin8tors Part 1 (Creating New Work & Challenges)
Origin8tors Part 2 (Inspiration & The Results)
The Martha Hill Newell Playwright's Fund
In Memoriam
(this video was accompanied by Desiree Roots singing "Here's To Life")