Blue & Green (video 1:26)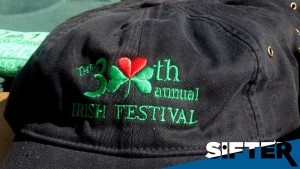 Blue & Green (video 1:26)
Saturday 3/21 was a glorious day for Churchill's Irish Festival. The warm sun was in stark contrast to the inclement weather in 2013 & 14. "Two years ago it snowed…we played in the snow!" remembers Blue Line Highway's Doug Austin. "But, we always draw a crowd no matter the conditions," added vocalist Julia Dooley, "Our hardcore fans – they come out." Being Irish herself, Julia says whenever the festival calls they will be there, whatever the weather.
Blue Line Highway was one of 50 bands showcased in 30-minute sets over the weekend festival. They've been together 12 years in several configurations. Previously a sextet, Doug says the current (last 2 years) quartet is "jelling as a stripped down version" incorporating bluegrass, old time, blues and Cajun into their original tunes. They don't hesitate to pull out occasional unexpected covers, which they make their own, like Dr. Hook & the Medicine Show's "The Cover of the Rolling Stone".
Doug has unique musical inspiration by way of his day job. He's one of the roving musicians you see in Colonial Williamsburg, playing mandolin. It's offered him a unique perspective on the roots of his music.
Julia and Doug enthusiastically say they've never felt freer creatively. "Not having a genre…we can do "Cover of a Rolling Stone" and our original numbers all woven together." Julia emphasizes they have always been about the song writing, something all members do. The joy of what they do comes through their music and it shows up on stage. The band very much is a mixture of talent, adrenaline, joy and love.
 Blue Line Highway:
Julia Dooley – Lead Vocals, Percussion, Harmonica
Joe Conner – Vocals, Accordion, Ukulele
Doug Austin – Vocals, Mandolin
John Leedes – Vocals, Guitar
SAD NOTE: Bruce Crump, original drummer for Molly Hatchet, lost his battle with cancer last week. He was very active in the Richmond music scene, most recently playing here with Red Star Crush. He'd moved to Florida and was playing in 2 bands there at the time of his death.