Sometimes it's the songwriter (video 1:58)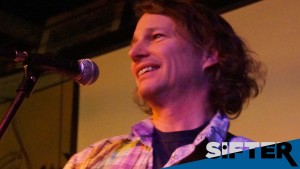 Sometimes it's the songwriter (video 1:58)
A couple of years ago, local singer/songwriter Rob Williams decided to get "aggressive" with his solo career. His latest move is the release of his 2nd solo CD, "Southern FM," accompanied by a locally-produced video, both of which Rob debuted at Poe's Pub last Wednesday.
The black & white video supports the upbeat yet melancholy "Sometimes It's a Song," portraying a traveling musician who lusts for girl in a bar. "I had to sit at the bar and look sad" said Rob of his acting role.
Several months ago, a small, volunteer crew and a dozen extras (some actual customers) spent a long Sunday shooting at Lakeside Tavern. Insurance regulations required fake beer and the crew had to create fake rain for some of the shots. Rob directed with local production guru Bill Ku handling location, technical and crew requirements. SIFTER's own TVJerry did the edit.
Since Rob is still a part-time musician, the video is intended to go places he can't and will hopefully get him on the industry's radar. It's working already – the video is a finalist for Best Performance at California's Idyllwild International Film Festival.
"Southern FM" is a collection of 7 of Rob's originals and one cover of Brian Harvey and Johnny Hott's "Sun Gone Down." Rob decided to push his comfort zone and travel to Dallas, using session musicians he met for the first time in the studio. They learned the songs on the spot and, as Rob says, "Put their own slant on them."
Rob's style is a mixture of 90's rock and alt-country with Americana influences. Like most songwriters, he gets his inspiration from the world around him. "My better songs come from imagining a story and the imaginary people in it." A case in point from the new CD is "Henry and Maria," which is based on a plaque he saw in Maymont about a long-ago marriage proposal.
On stage, Rob is personable and energetic, which comes partly from playing in 2 previous indie bands. He played lead guitar in his first band. "I was a terrible lead player." His second band (in the 90's) was Joe Buck, Jr. "It was a bit of a relief" because it gave him a chance to concentrate more on singing and writing. "Admittedly, looking back, those early songs really weren't that good. But it was good experience, getting in front of the band and being the main focal point."
Experience that shows as a solo performer, which he says requires a special skill set. "You're up there by yourself, you have to cover it all." Cover it all he does very well.
Rob will be part of "The 9" Songwriter's Series" at the Tin Pan 1/14 and is opening for Paulo Franco & The Rateros at Ashland Coffee and Tea 1/30.