A Doublewide, Texas Christmas (review)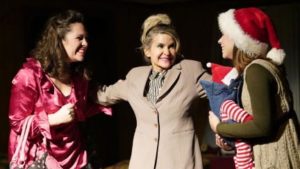 A Doublewide, Texas Christmas (review)
THE PLAY: The titular town schemes to get recognized as a bonafide locality.
THE PRODUCTION: Some of the things I said in my review of the original "Doublewide" still hold true:
"This play is more about personalities than punch lines. This cast is full of broad characters that are played at top volume (literally and figuratively)."  
This time, the performances range from competent amateur to wildly overacting (especially Jeannie Goodyear, returning as the outlandish Caprice with equally outrageous costumes). Mike Fletcher is back directing, but much of the staging is flat and the second act loses momentum just when it should be building. The curtain call provides one of the best gags. Scott Bergman's set bears no resemblance to a trailer and lacks any elements of design (good or bad). Running time: 2:00
THE POINT: Any cast would be hard-pressed to turn this silly script into a good show and this group has managed to create a robust community theatre production.

(2 / 5)
At CAT thru 12/15
LISTEN TO MY REVIEW (as aired on WRIR)