The End of War (review)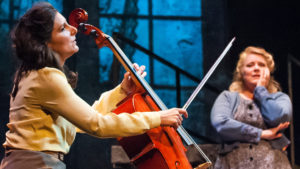 THE PLAY: It's the final days of WWII in a Berlin devastated by bombings, a young cellist and her mother hide a secret, while two Russian soldiers lead the march into the city.
THE PRODUCTION: Beginning with the first powerful image, this production belongs to the masterful direction of Nathaniel Shaw in his first outing as VaRep's new artistic director. The star of the show is the magnificent staging:
– Set designer Ron Keller's massive ruins
– Tennessee Dixon's colossal projections
– BJ Wilkinson's dramatic lighting
– Erin Snedecor's beautiful solo cello
– Julian Evans' persistently subtle, highly effective sound design
Managing to focus personal drama amid the spectacle is the enthralling story of the women who fight for survival (Paige Larson and Eva DeVirgillis, both excellent). The soldier duo (Nicklas Aliff and Wolf J. Sherrill) deals effectively with their own demons, despite their less engrossing scenario. Playwright David L. Robbins has crafted a compelling script. Even though the extended soldier dialogue slows the dramatic momentum, the show's final scenes are gripping. Running time: 2:10
THE POINT: The play and performances are potent, but it's the spectacular staging that elevates this production into a landmark theatrical event. This "End" marks an impressive beginning for Mr. Shaw.
(4.5 / 5)
At Virginia Rep thru 3/26
LISTEN TO MY REVIEW (as aired on WRIR)