From badminton to Beatles (video 2:30)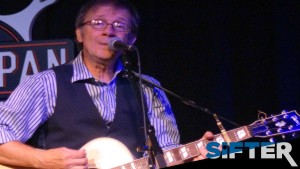 From badminton to Beatles (video 2:30)
Guitarist Buzzy Lawler's first "instrument" was a badminton racquet. He and his brother would strum along to songs his parents had on the radio. "We heard pretty much everything – Sinatra, show tunes, all the great singers. Everything except opera and country," says Buzzy about his introduction to music. Seeing him pantomime, Buzzy's parents gave the brothers real guitars. They hadn't really connected with the music yet, so the guitars spent a lot of time under their beds.
Then Buzzy heard the Beach Boys. The harmonies and Brian Wilson's chord changes (which he'd learn later) hooked him. "Fun, Fun, Fun"…"I Get Around"… They're just grabbers!" A few years later, at his first of many rock shows, he saw the Beach Boys, Buffalo Springfield and Strawberry Alarm Clock at the long-gone Arena (a huge Quonset hut where the Diamond is now). It was the Beatles in 1964 that got the guitars out from under the beds. "Everybody was picking up guitars!"
Where most guitarists tend to go for the lead, Buzzy happily plays rhythm guitar. "It's just fascinating, all the different chords you can make on a guitar, putting those different strings together. That's what I'm all about." He formed Rockin' Horse with high school friends and played rhythm guitar (they once opened for the Ramones.) Later he played in Dirty Secrets and for about 7 years with rock cover band Loose Gravel. He currently anchors rhythm guitar for the 60's British invasion-oriented English Channel.
Buzzy worked at many legendary RVA record stores: Gary's, Peaches, Album Den and Plan 9, mostly as a buyer. Surrounded by the latest music, and listening to most of it, didn't change Buzzy's outlook on what he wanted to play – it enriched it.
The band, concert and store experiences have made Buzzy something of a musical scholar. He's considering putting together a series of essays from "all the notes floating in my head." He hosted a Saturday morning radio show on WRIR, "Shake Some Action," which gave him a showcase to play and talk about underappreciated bands and their songs. When Lou Reed died, Buzzy wrote an insightful assessment for Style magazine of the artist's work and impact on both himself and the music world.
Buzzy regularly plays wide-ranging solo gigs at clubs like the Tin Pan, where I caught him Thursday night, as well as eateries such as the Urban Farmhouse. He also plays retirement homes, which lets him dip back in the roots of his parents' music. He loves playing them because it brings back such good memories, not only for the residents (who often sing along and dance), but for him as well.
To get on Buzzy's gig mailing list send him a request: Send an email