From SXSW to Hardywood (video 2:04)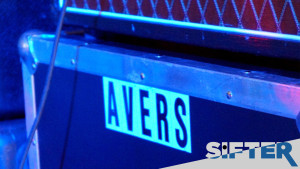 From SXSW to Hardywood (video 2:04)
The past year has been pretty productive for RVA's Avers:
– Put out their first album (Empty Light).
– Opened for the Foo Fighters at the National ("One of the most electric experiences we've had as a band.").
– Played to national attention at SXSW.
– Consistently on the road making new fans.
Alex Spalding (bass/vocals) predicted last June (at their Friday Cheers show) that the year ahead would be "a world domination mission." Adrian Olsen (guitar/vocals) says it's all about keeping the move forward, "If this past year was world domination, the next year will be universal domination."
They played a benefit show at Hardywood recently (MC'd by Richmond music icon Chuck Wrenn) and you can see the results of being on the road. Much like the Hamburg gigs did for the Beatles, they are a road-refined band. They've learned to put on an energetic show under less than ideal conditions and pull it off effortlessly.
A case in point: the SXSW experience. Venues range from auditoriums to cramped beer joints. The logistics of getting to the venue with all the gear and then setting up is less than glamorous. At one show James Paul Mason (guitar/vocals) actually passed out and fell off the stage, "It was really hot. They had plastic curtains around the stage. It was like a sauna." Sleep came wherever they could find a place to crash. At one point Paul realized he had only slept in a bed twice in a span of 12 days.
SXSW did deliver great exposure for Avers, including mentions as "one of the bands you should have seen" in several national music publications. Adrian says that kind of exposure can't be planned or expected. "It's 5,000 bands and people with short attention spans…you can drive all those miles and wonder what you've come out with." He says it was just good fortune that the music press caught a couple of their shows and chose to say something about it. But Adrian knows success is not about the "big splash…It's all about opportunity, maintaining momentum."
Avers is hooked up with J Roddy Walston for a number of shows and will go international when they follow the tour to Canada. At least one of the band members is in a scramble to get his passport. They're also scheduled to play the multi-day Bonnaroo-like Landmark Festival in DC this summer. You can catch them locally at the re-scheduled Arbor Day Concert (7/11) near the Byrd Park Pump House.
Avers:
James-Lloyd Hodges – guitar/vocals
James Paul Mason – guitar/vocals
Adrian Olsen – guitar/vocals
Alex Spalding – bass/vocals
Tyler Williams – drums
Charlie Glenn – guitar/vocals/keyboard