Happy Birthday, Donnie!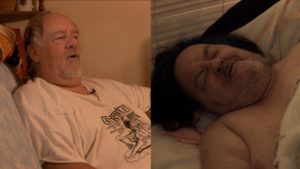 Donnie Corker (aka Dirtwoman) would have been 67 today! In his memory, I've released the first-ever clip from the finished documentary: SPIDER MITES OF JESUS. Happy birthday, Donnie!
The illustration of Donnie on the porch with his parents was one of 12 created by Matt Lively for the doc.
To keep informed on where the doc will show next, look for "Get Email Updates" at the bottom of this page on the Dirtomoman Doc website.