Westhampton Cinema Closes (video 2:00)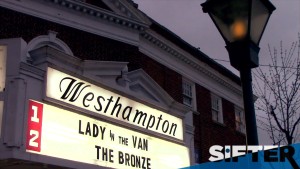 Westhampton Cinema Closes (video 2:00)
As I published on 3/17, the Westhampton Cinema screened its final film on Sunday, 3/20. Several dedicated patrons and former employees dropped by to share memories and thank longtime manager Elaine Browder (who'll be moving to the Commonwealth 20). She wasn't allowed to speak to press, but I managed to grab some surreptitious footage and a few quick interviews.
Here's a brief history of the theater (thanks to Ray Bentley):
Neighborhood Theaters built the Westhampton in 1938. It originally showed 2nd run films after they played downtown. In 1981, the balcony was converted to a "piggyback" theatre.
Popular road show films (reserved seats)
Can-Can
My Fair Lady
Lawrence of Arabia
Dr. Zhivago
2001: A Space Odyssey
Sweet Charity
Popular general releases (70s-90s)
Woodstock
Jaws
Blazing Saddles
Young Frankenstein
Grease
Star Trek2
Forrest Gump
Shawshank Redemption
My Big Fat Greek Wedding
Priscilla, Queen of the Desert
Milk
Farenheit 911
Reds
Not to mention hundreds of foreign-language and arthouse films.