A harp with the blues (video 1:45)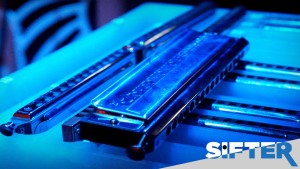 A harp with the blues (video 1:45)
Kurt Crandall has played harmonica (or "harp" in the biz) in some of the best blues cities in our country, as well as Europe. It's a bit ironic that his family brought him back to Richmond VA, which is not a town known for showcasing the blues. Kurt agrees but is quick to add, "I think there are great players here for sure.… Just not a lot of good blues venues." He often plays at the Tobacco Company and in Petersburg's Old Town, which Kurt says has "a scene unique and different from Richmond – it's adult and we play adult music."
Friday Kurt and his band True Story played the decidedly-adult, blues-friendly Brews and Blues to a full house at the Camel. True Story was more than up to it. Local drumming institution Johnny Hott was joined by a laid back John Sheppard on bass and smokin' Brad Kinder on guitar. Legendary RVA blues harpist Li'l Ronnie Owens traded places with Kurt for several numbers with the band during the first set.
Kurt writes about 80 percent of the songs they do, inspired often by his own life. "Many failed dating experiences, honestly." Originally from Maine and then Virginia, he moved out west for grad school in Kansas City and played anywhere he could within a 500 mile radius. He honed his chops, including vocals, living in D.C., Macon and Chicago. Chicago found him in regular rotation at the House of Blues, Shaw's Crabhouse and Andy's Jazz club, which afforded him the chance to play with some true blues heavyweights.
Touring Europe, he found a real appreciation for the blues in Holland and Sweden. "European audiences just love and crave this music and the musicians have such an appreciation too. They learned all my material perfectly. It was wonderful."
Kurt and his band put on an energetic, fun show. He shares the stories behind his songs and even includes a funny lament about pet owners who confuse their pets with being people. Kurt admits most of his lyrics are humorous, often tongue-in-cheek, because that just fits with him. Being a harpist can be a bit genre confining, but Kurt works at changing up the grooves, keys and sounds. Different positioning techniques and using a case full of different harps are all part of expanding the possibilities.
Kurt and the band will be playing Petersburg's Wabi Sabi the 21st and the Tobacco Company April 4th. Check Kurt's website for more dates and CDs.
If you're a blues fan the River City Blues Society has a couple of dates worth noting:
The Parkfest Blues festival will be 5/9 at Pocahontas State Park.
Tommy Castro and the Pain Killers play the Camel 5/20.
Details on these and more on the RCBS website.