A new take on Theatre Art (video 2:00)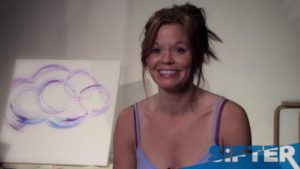 A new take on Theatre Art (video 2:00)
McLean Jesse has had a rich, varied career as an actor in Richmond (culminating in her 2015 Artsie for Best Actress in a Lead Role for The Human Terrain). Sadie's Last Painting marks her last show before she leaves for graduate school in DC. It's being produced by Free Jambalaya, a Richmond-based company dedicated to the creation of new work.
One unique aspect of this production is that McLean will be painting a new work of art at every performance. In the video, McLean talks about the extended, collaborative enterprise of creating this show and her experience as a painter. (The music track is an original piece by the show's composer Matt Treacy.) The paintings will be sold at a special one-nite staged reading of The Heidi Chronicles to celebrate McLean's tenure as TheatreLAB's Associate Artistic Director (7/24 at The Basement).
Sadie's Last Painting runs at RVA Event Space thru 7/9. Click here for tix.
Listen to this issue of CURTAIN CALL, where McLean talks about leaving town and what's next.