Breaking Through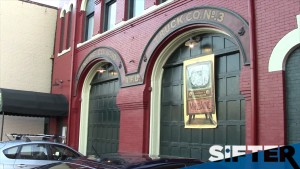 Continuing with the theme concept, Firehouse Theatre has titled their 2016-2017 season BREAKING THROUGH. They'll again be programming in 3 different series:
– Firehouse Plays
– Firehouse Fringe
– Firehouse Studio.
Here's what's coming in each:
FIREHOUSE PLAYS
AMERICAN IDIOT (6/25)
Green Day's This "punk rock opera," which was adapted into a Broadway musical in 2009 will mark the first time that Artistic Director Joel Bassin will direct a show, along with co-director and  Associate Producer Adam B. Ferguson.
UBU 84 (9/24)
This is a mash-up of 2 classics: Alfred Jarry's UBU ROI and George Orwell's 1984. This world premiere will be adapted and directed by James Ricks.
THE BOATWRIGHT (2/14/17)
Local playwright Bo Wilson will be taking yearlong residency at Firehouse and will present the regional premiere of his play THE BOATWRIGHT. Gary Hopper will direct.
They're also finalizing arrangements for co-productions with other Richmond theatres that will be announced later.

FIREHOUSE FRINGE productions include:
Classical Revolution RVA on 6/1 & 2
Comedian Lucas Bohn 6/11
24 HOUR ALARM (a 24-hour play festival) 7/3
Raymond Goode's THROUGH THEIR EYES 7/6
Nu Puppis' deconstruction of SEVEN BRIDES FOR SEVEN BROTHERS 7/10
Weinstein JCC's Jewish Family Theatre's Second Stage Theatre in residence with performances of LES MISERABLES: School Edition (directed by Deborah Clinton with musical directed by Jason Marks) 8/24
K Dance's YES! DANCE INVITATIONAL 12/2
The Big Burly Project will revive BRAVELY BARE (7/24 & 31) and will premiere their new burlesque musical BARE IN THE WOODS 12/10
Some of the most popular Fringe series will return:
Bi-monthly performances by Firehouse Radio Players (including their annual production of WAR OF THE WORLDS on 10/29
RANT storytelling
THE PORCH folk/heritage music
Words on Fire
Happy Hour Poetry
Tickle Me Tuesday stand-up comedy
Firehouse Play Reading Roundtable (curated by Janet B. Rodgers)
IBM* Magic (*International Brotherhood of Magicians, Ring 180)
Lunchtime Theatre with the Not Ready for Dinner Players
Starlet Knight's Cabaret starring Anthony Dowd.
Also in development is FOOD CLOTHING AND SHELTER: 3 interconnected new one acts by Bo Wilson, as part of his residency
An immersive/interactive dance marathon production
THE PARISH (a music/storytelling series with church choirs)
THE PANTRY (a live cooking competition series)
FIREHOUSE STUDIO (an incubator for new work):
A Directors Project Festival featuring work by Brandon Bruce, Jeff Clevenger, and Kelsey Schneider
A new play that Bo Wilson will develop as part of his yearlong residency.
Other Studio projects will be added in the coming months
Specific schedules and more information will be posted on their website as they are finalized.