Glam and guitars (video 1:33)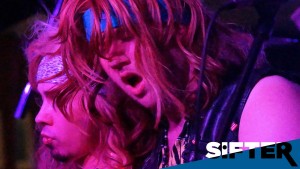 Glam and guitars (video 1:33)
Hair metal music (aka glam rock) came largely from the LA music scene of the late 70s/early 80s: big hair, macho swagger and outlandish clothing – think Mötley Crüe, Quiet Riot, Ratt and early Bon Jovi ("Not the current day, country music Bon Jovi"). It was popular in the 80s/early 90s.
RVA's Teaze celebrates that time, when party was the rule. Ironically, only one member was even alive during hair metal's heyday: Drummer Joe E. Lee, "I remember sitting in my parent's living room watching a Guns n' Roses video (on MTV) and thinking, 'I want to do that.' It looked like 5 crazy guys from another planet." The others are in their mid-20's, although bassist Richie Reckless theorizes, "I'm probably a result of it. I was born in '88!"
Make-up, clothes and hair transform the band, "As soon as the hair gets on…It's a different person altogether!" Note: only one member of the band sports his real hair and nobody's telling, although it's pretty obvious. The costumes and make-up ease the transition, says Joe E. "You can't not be silly when you look like this…it puts you in the mood to have a good time." For the band, true to the '80s, it's all about bringing on the party. A party that Joe E. says spans generations.
Teaze's energetic show includes fun choreography and soaring guitar runs. It really is as much about the style and vamp as it is about the music. Richie fronts the band on vocals, but they all sing and mix it up with straight-on-anthems and the requisite heavy ballads. They appreciate their crowd too by having a photo session after their first set.
Teaze plays mostly in Richmond about 3 to 5 times a month. Favorite venues include The Midway, Uptown Alley, Sharkey's and Sine's Irish Pub (5/ 8). It's a great trip back to a time when those crazy looks were cool. "You've got to put on the show. That's what makes it for us and our fans. It's a party"
The band:
Richie Reckless: Lead Vocals / Bass
Layne Ryder: Lead Guitar / Vocals
Jon Bon Michaels: Lead Guitar / Vocals
Joe E. Lee: Drums
NEWS:
Kudos to Friday Cheers for successfully launching their 31st season under some daunting circumstances. The weather was questionable until the last few hours and headliner Shaky Graves cancelled at the last moment. Opening act Yarn stepped up to play a full 2-set show. American Idol finalist Rayvon Owen took the stage between sets…a last minute surprise. (PHOTO from Friday Cheers)