Have suitcase, will play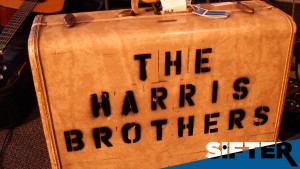 "We grew up playing; that's all we do," sums up Ryan Harris about the 20+ years that he and brother Reggie have played music together professionally. The Harris Brothers come from an extended musical family and got their first inspirations back in Lenoir, N.C. from their father and uncles. "We'd be in the basement and hear our dad thumping on the floor with his foot while playing guitar. That's where we got our rhythm."  Ryan and Reggie are very much "home grown" virtuosos.
When they were teens, they had a rock band, "two drummers, guitars playing Allman Brothers, Lynyrd Skynyrd, Little Feat…all the good stuff." Other early influences include Merle Travis, Chet Atkins, Doc Watson and eventually Muddy Waters and the Grateful Dead. We just love it all!"
Ryan's a natural singer who eventually picked up the bass (currently a well-worn classic Harmony), when he landed a job at N.C.'s Tweetsie Railroad theme park.
Over the years they gravitated to being a duo, to the point where their drummer was replaced by Reggie, who uses a suitcase like a bass drum. "Less mouths to feed and split the take with," jokes Ryan.
Their music today is based on traditional roots, rock & roll, jazz, blues and Appalachian mountain music. Ryan's the primary vocalist and bass player, while Reggie handles the guitar work ("privileged to play a Wayne Henderson guitar"), vocals and suitcase bass drum. Being brothers, their performance (and humor) is intuitive and real as they move seamlessly from genre to genre.
They generally play close to home, with occasional trips out west and along the East Coast. Recently they went abroad for 6 shows in Paris, France. Ryan said they were well received by the Parisians, getting standing ovations and encore requests at sold-out shows. "We even sold a few CDs!" They flew back the day of the Belgium airport bombings and, according to Ryan, their "special suitcase" got more than a few stares from security, "It was the only one without wheels."
The brothers' career got a big boost from Jon Lohman, director of the Virginia Folklife Program, who invited them to play one of his shows, knowing National Folk Festival talent coordinators would be there. The Harris' blew the NFF scouts away. Since then, they've played several national festivals, as well as last year's Richmond Folk Festival. They paid Lohman back by inviting him up to play harp on a couple of songs at Saturday's O'Boyle–Raney house show.
Whether big festivals or intimate house shows, Reggie says they just like to play, "Every show's the same. I don't care if it's 3 people or 3,000…it's all good." Given their quality performance and likable style, I doubt they'll ever have to worry about playing to just 3 people again.