No small merit (video 1:57)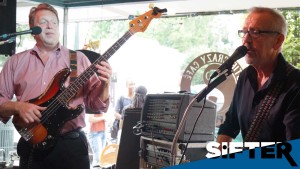 No small merit (video 1:57)
Mark Merritt and John Small have played together over 35 years, which includes a 32 year hiatus. About 4 years ago Small Meritt got back to the stage. "It's better now than it was back then" says Mark. People remember the Poor Richard's days. "A lot of memories. It was fun." The good memories convinced them to get back playing.
They appreciate that the crowds come as much to listen as to have a good time. Their tight harmonies coupled with Mark's amazing vocal range – he gets into Frankie Valli territory –and John's Brit/Yank style make their song selection really work.
Growing up in England, John saw the early Beatles, "I was a big Beatles fan. I saw them live when I was 16, in Hull, Yorkshire. My two oldest kids just took me to see Paul McCartney in Charlottesville for Father's Day. Kinda comes full circle!"
Being retired, the music helps pay their bills. Mark says he wants to stay busy and "doing the music is good right now." They typically perform 3 – 4 times a week (or not) at RVA venues like O'Tooles, JJ's, Rare Old Times. They played to a full house Thursday at Northside's Stir Crazy. They hope to soon branch out "in a 50 mile radius…just for yucks".
The duo keeps it fun by telling stories between songs and enjoying crowd interaction. John has the distinction of having a song in, as he says, a not-very-successful Barbara Eden movie and another "used" by Crystal Gayle. Their set list is a flow of styles, lately with a bit of an emphasis on country "because it reminds us of 50's melodies." Beyond the money, the real payoff for Small Merritt is watching people have a good time. "It's very fulfilling. It's why I do it really," John says. Mark quickly adds, with a laugh, "and the chicks!"
Mark Merritt: bass and vocals
John Small: guitar and vocals
Note: If you've ever wanted to see Rosie Soul and the Rock and Roll Cowboys, you only have once chance left. Rosie announced last week that she has breast cancer and has decided to unsaddle the Rock and Roll Cowboys. On July 11 they play their farewell show at Richmond Harley Davidson. Tickets at the bike shop (no fee) or on-line.