More than a neighborhood (video 2:09)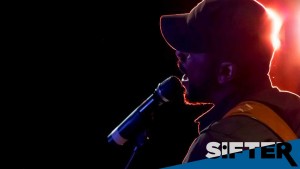 More than a neighborhood (video 2:09)
Tony Jackson, lead vocalist and co-founder of the RVA country band Jackson Ward, is having a good couple of weeks.
Last weekend, his vocal performance became the surprise hit of the Old Dominion Barn Dance (headlined by country icon Ronnie McDowell). ODBD producer and performer Donna Dean Stevens shared this with cast and crew in an email, "To say our audiences were blown away by his talents is an understatement. The evening show's audience was especially impressed with Tony, so much so that he received a standing ovation and was brought back for an encore." Tony was admittedly humbled by the experience.
Donna first noticed Tony on YouTube doing a tribute cover of George Jones' "The Grand Tour," which Tony first heard while a Marine (2 tours, 4 years total). When Jones died (a fellow former Marine), Tony went in the recording studio.
This past Thursday, the band played a benefit show to a packed house of over 200 at the East End's Sportsman Lounge. It was a party pack that clearly came to see Tony and the band, no doubt due in large part to the rapport they've developed with their fans. Drawing crowds like that has been the norm for the 2-year-old 6-piece band. They do a combination of "real country" and more modern "radio" country that still satisfies their own musical passion for country music. Tony says they are trying to move away from the bar scene "to find new faces" and do more "family friendly" shows. They're booked to play the main stage at this year's State Fair.
Tony has only been singing professionally about 7 years and that happened by chance. A friend's band wanted to play, but needed a singer. "I was hooked! This is what I want to do." He had sung in church and school choirs, but never really had designs on singing and performing. (By day he's an "IT nerd" for Bank of America.) Working with country rhythm guitarist Jeff Ward Richardson, the band was formed – its name a combination of Tony and Jeff's names.
For Tony and the band the future is wide open; he says they are still evolving. Personally, he'll do what he does only if it's fun and he wants to be doing it. "I'm not going to sacrifice happiness for success."
They released a CD earlier in this year, Goodbye Trouble, which is also available digitally.
The Band
Tony Jackson – Lead Singer, guitar
Bob Breckenkamp – Lead Guitar
Jeff Ward Richardson – Rhythm guitar, vocals
Doug Walls – Steel guitar, vocals
Bryan Mitchell – Bass guitar
Greg Rollins – drums
Old Dominion Barn Dance photos: Dave Parrish Photography