The market's rooster (video 1:27)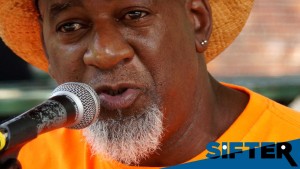 The market's rooster (video 1:27)
He's the un-official greeter at the South of the James Farmers Market, a role that busker Markiss Blowfish is perfectly suited to: shouting out "hellos" and "welcomes" as shoppers pass by. "I'm the market's rooster!" You'll find him there rain or shine, "I might be in one of the shelters but I'll be here…have been from the beginning."
When he left the service, this native New Yorker told his family, "we're headed south to find "some place slow… Hi mom. Hi pop." he says with his infectious laugh and smile. Given the market's laid back vibe, Markiss is completely content sitting in the shade playing his guitar and singing the blues. His style – as much whoops and holler as it is words – is reminiscent of Piedmont blues made famous by John Cephus and Phil Wiggins. He says, "It's old school, that's all it is to me."
An admitted musical "late bloomer," he started playing when he was 39 (about 20 years ago). His father gave him a harmonica. After joining a song writers' group, he realized he could write "pretty good songs." So, he put down the harmonica and taught himself the guitar.
2002 found him in Shockoe Slip on a Friday night. It was a good gig.
He brought the good times to the market when it first opened 8 years ago. It was a bare bones set-up, just him, his guitar and the donation bucket. Today he's added a mic and battery-powered amp. All the better for attracting the shoppers – admittedly more focused on the fresh produce and crafts. Judging by his bucket (about half full after only an hour) he does OK. "I keep eating" he laughs. He plays around town several times a week." My voice goes after only 3 or 4 days." Driving a school bus year-round helps pay the bills. As does sales of his recent CD, which he always has with him.
Watching the market going kids grow up has been a great bonus for Markiss, who calls himself a grandfather to many of them. "I love the job. I don't worry about the money, that comes later. It's just what I love to do."